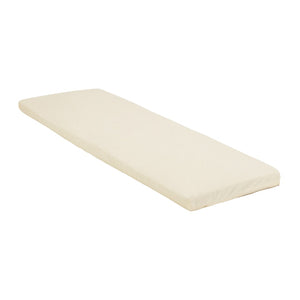 Mattress for sling cradle
359,00 kr
Organic cold foam mattress upholstered in a 100 organic and uncoloured cotton layer from Ghana. The sheet has velcro, so you can easily take it off and wash it at 40 degrees.

Dimensions: L: 80 cm x W: 30 cm x H: 4 cm
Several customers have already noticed that we have the most firm mattress for sling cradles on the market. Baby does not fall into the mattress, but lies so nicely and can turn his head exactly as the National Board of Health recommends it.
The mattress can be combined with all sling cradles on the Danish market.